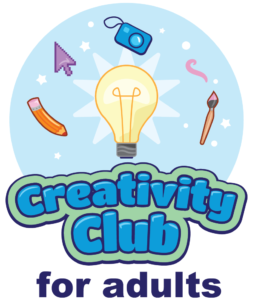 These are the activities for our Creativity Club for Adults, which will remain posted here, so you can come back to them as you like.
You may participate in some or all of these activities. Do whatever fits with your time and interest!
Each activity can be done with no, low, or more technology. Activities include writing, drawing, photography, and more.  We introduce each activity with a short video and then you can take it from there. No previous experience or skills needed!
If you participate in any of these activities, we'd appreciate your feedback through this short survey.
---

Week 6 – Choose your own adventure
This is the last week of our Creativity Club activities, and we're inviting you to be creative with your own creativity. Choose one of these creative pursuits or come up with your own.
[
mp4 download
]
Music

Make some music
Remix some music and share it (ccmixter is one site for this; it also has openly licensed music.)

Textiles
Writing
Food

Cook something you've never tried before (I love Food52 for recipes! There are also a lot of great cooking shows streaming on various services.)
Make a themed meal (think Mediterranean or tropical fruits)

Gardening

Grow something new
Plant things is a new combination
Arrange flowers
Cook a meal entirely from your garden or foraged food

Arts and Crafts
Media
Here are some other sites with creative suggestions that might inspire you:
Our county library system lets you request books from across the county, and they have books on all of the above topics and more!
And some of our branch libraries have Creativity in a Box kits that you can check out with instructions and supplies for projects like button making, digital photography, paper crafts, and more!
The sky's the limit!
---
This week we're making mini-books!
[
mp4 download
]
Here are some additional resources:
Another video on how to fold and cut the paper

Other ways to make mini-books
And if you are interested in more on bookmaking:
Services that print books from your photos and text
Self-publishing services (for printed paperbacks)
Making ebooks
---
Doodling can be a great way to exercise your creativity, and it has also been found to have cognitive benefits.
[
mp4 download
]
Doodling can be done many ways and with many tools (pencil, pen, markers, chalk). To get the most benefits, try choosing a different  subject to doodle each day. You don't have to spend much time on this – 5-10 minutes should be enough (unless you want to spend more). You can choose from the list below, a daily doodle list (examples below), or subjects of your own choosing.
flowers
abstract designs
fruit
a map
lettering
a comic
a car
what makes you happy
summer
a calendar
movement
a tool
a hat
a giraffe
a game
music
trees
a prize
exercise
shoes
home
shapes
your love
Links:
Other notes:
---
This week we're painting rocks!
[
mp4 download
]
After you have your rock painted, you can keep it, put it in a garden (your own or a kindness rock garden near you), or hide it for someone else to find. This is a lovely way to spread some kindness in the world.
Special thanks this week to all the folks who paint and share rocks, especially Sheri Parizek Zimpelman, Sue Parizek, and the admins and members of all the Facebook rock painting groups (links to local groups below).
Links:
Search the internet for "painted rocks" for many more sites and inspiring ideas.
Local rock painting groups on Facebook
Other notes:
---
This week is all about photography. We have ideas for all levels and all equipment, including mobile phones.
[
mp4 download
]
Here are some photo challenges for you to try. Do whichever ones seem interesting to you. (Here is a printable list.)
Simple
Take a selfie that shows you in your "happy place"
Make a photo of a tower of rocks
Take of a photo of your pet
Make a photo of some fabulous food
Take a photo of a person in mid-air
Make a photo that uses leading lines
Make a photo using the rule of thirds
Make a photo that shows perspective
Take a portrait that shows someone's true character
Medium
Take a selfie in which you are hidden in the photo (examples here)
Make a new photo "old" (You might make it black and white or sepia tone or digitally damage or burn the edges. Examples here.)
Take a photo that shows depth of field
Make a photo that tells a story
Combine two photos to show someone or something in an unlikely location
Photograph something very small up close (macro photography which can be done with a cell phone but get closer don't zoom!)
Photograph a paper cutout in an interesting scene (amazing examples here)
Take a picture that shows a hidden face in nature (for example, in the clouds)
More involved
Links:
Other notes:
---

Week 1: June 1 – Making Postcards
This week we're making postcards! They're easy, fun, and creative to make, and a joy to receive.
[
mp4 download here
]
Links:
Other notes:
In addition to whatever art you might put on your postcard, the written note is a great opportunity to express your creativity. Just a few words can say so much!
If you're interested in making thank you cards for local health care workers, contact Karen for more information.
If you participated in this activity, we'd love your feedback through this very short survey. (This is valuable data for our grant.)
---
This project is supported by the Arizona State Library, Archives & Public Records, a division of the Secretary of State, with federal funds from the Institute of Museum and Library Services.